SALINAS, Calif. — Natividad Foundation, a nonprofit fundraising organization that works to strengthen Natividad, has hired marketing veteran Hillary Fish as its director of annual programs. In her new role, Fish is responsible for managing the organization's special events, fundraising campaigns, marketing and communications.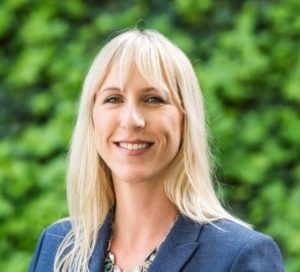 "We want to help our donors create meaningful change in our community," said Linda Ford, president and CEO of Natividad Foundation. "We are thrilled to have Hillary here to support the foundation's programs and to communicate how our partners are helping the hospital provide high-quality care for all, regardless of ability to pay."
Fish's marketing and communications career began with an internship in 2001 at Armanasco Public Relations in Monterey. After college, she joined San Juan Bautista-based Earthbound Farm, the nation's leading organic produce grower and shipper, where she managed national consumer events and marketing projects for 10 years. In 2013, she was hired by Salinas orchid grower Matsui Nursery to manage the company's marketing and buying programs.
Born and raised in Monterey County, Fish is a Salinas High School graduate and attended Hartnell College before receiving her bachelor's degree in journalism and public relations from California State University, Chico.
Fish has volunteered for nonprofit boards and committees nearly all of her career, including with Ag Against Hunger, California Women for Agriculture, Hartnell College's Women's Education Leadership Initiative and the Parent-Teacher Organization at Dual Immersion Academy of Salinas.
"I've always been very interested in helping others live healthy, happy lives," she said. "The foundation and our donors are ensuring Natividad has the equipment and resources it needs to provide the best care, while the foundation's innovative programs are making our community stronger and healthier. I'm honored to be part of that."
# # #
Natividad Foundation is a nonprofit organization dedicated to bringing people together to strengthen the Natividad, the one place that safeguards the lives and livelihoods of everyone in Monterey County. The foundation develops innovative programs like Indigenous Interpreting+®, provides specialized medical technology, enhances the county's state-of-the-art trauma center and supports its high-quality rehabilitation center. Its partnerships with funders, community leaders and the hospital transform health care into solutions that heal people, unite a community and stand as models for the nation. For more information, visit www.natividadfoundation.org
Natividad is a 172-bed acute-care hospital owned and operated by Monterey County. As the safety-net hospital providing health care to the residents of Monterey County for more than 130 years, Natividad provides health care access to all patients regardless of their ability to pay. The hospital operates with a medical staff of nearly 400 physicians and has several specialty clinics and outpatient primary care clinics operated by the Monterey County Health Department. Natividad is a Level II Trauma Center providing the immediate availability of specialized personnel, equipment and services to treat the most severe and critical injuries.